Your domain name has been bought, website – created, and after filling it with all the useful information you are ready to start selling your goods. Once the orders start rolling in, it's hard to keep track of what's being purchased, what's abandoned, and the correlation between the two of the occasions – unless you have your Google Analytics for ecommerce website set up.
That's why we created a special set up ecommerce tracking in Google Analytics Guide that will help you establish your ecommerce metrics, get your Google Analytics ecommerce reports and navigate throughout the whole set up process.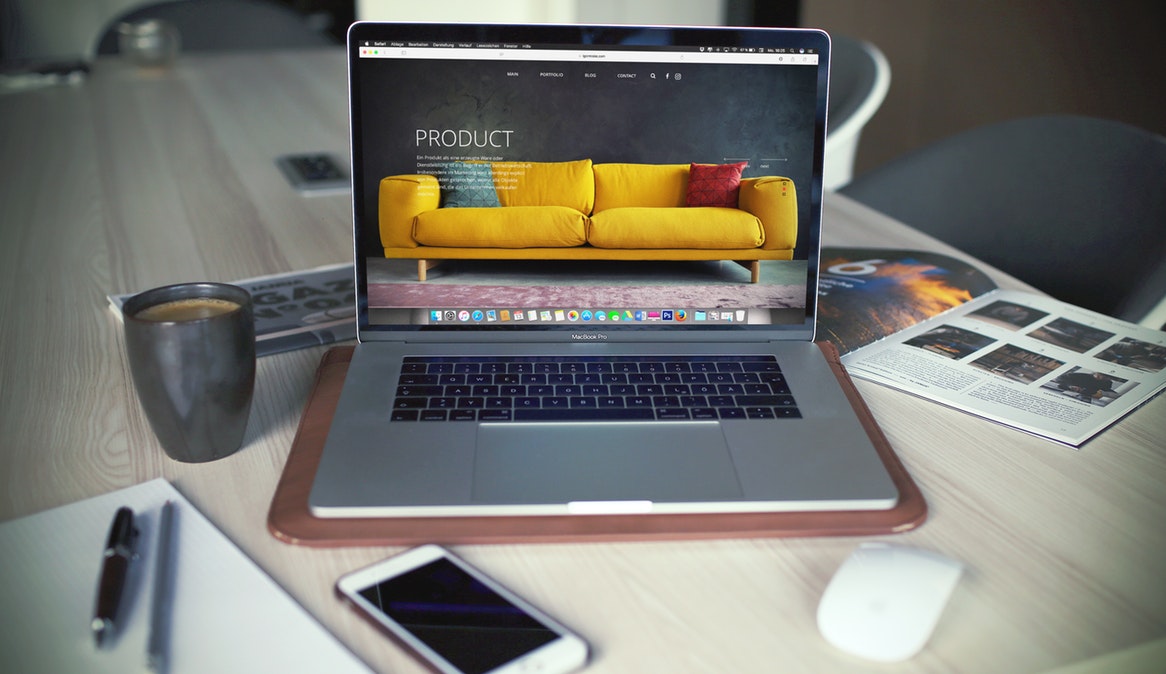 General Google Analytics Settings
There are a number of things you'll have to keep in mind when setting up your Google Analytics ecommerce account.
Let's start with filters.
Google Analytics Filters
This smart and seemingly self-explanatory tool called Filters in Google Analytics serves exactly the same purpose it serves in real life. Your custom filters allow you to sort data according to your needs, leaving you with the streams of accurately assorted data instead of a pond gathering info from all the sources that get poured into it. Google Analytics filters divide into 3 large categories according to the needs they serve:
Data Collection Filters – filters meant to exclude invalid, unreliable or repeating data sources which might mess up your calculations if you let them in with the rest of your findings.
Data Consistency Filters – these crucial filters are meant to help ensure your data remains undeviating throughout the whole tracking process.
Data Source Filters – filters allowing you to break down your data by devices, location and other imperative source mediums.
Find out all about setting up Google Analytics filters in the special step-by-step guide here.
Referral exclusion list
When collecting data for ecommerce tracking, one of the most important steps within ecommerce analytics tools is to exclude the sources you don't want to allow with the rest of your data. That's why Google Analytics created a tool called Referral exclusion list, which allows you to input all the traffic from the sources you'd rather not include.
The sources you should add to your Referral exclusion list are following:
Your own domain – when the visitor was browsing your store, then moved to checkout and back to browsing, the tracking will mark his traffic source as your own checkout page, so it's the best practice to avoid it.
Payment systems – if your online store graciously invites visitors to review your products on your platform, but leads them to purchase those goods using outside payment systems like Paypal or Shopify, it's the best practice to exclude them, which you can do by clicking the above links accordingly.
Other interfering sources – if you have any other sources which might interfere with the statistics of your Google Analytics account like an old domain name or a sister website, it's a good practice to add them to the Referral exclusion list, too.
To find out how to add any domain, including Paypal and Shopify, to your Referral Exclusion List in Google Analytics, check out this visual step-by-step tutorial.
Google Analytics Goals
Goals in Google Analytics for ecommerce website setup are used to measure specific metrics and compare them against set goals you've established.
According to the Google Analytics itself,:
Examples of goals include making a purchase (for an ecommerce site), completing a game level (for a mobile gaming app), or submitting a contact information form (for a marketing or lead generation site).
Once you've established the needed amount of monthly items sold to say, satisfy your budget, it is very easy to track how often this activity is performed and how well it's converting.
Enhanced Ecommerce Google Analytics
Okay, so since there are two different but super-similar sounding products on the market, let's get their similarities and differences straight.
Similarities
Firstly, they both come from the same developer, which is Google Analytics, and they are both plugins created to help in Google Analytics ecommerce tracking for your online business. They are also incompatible, meaning if you installed one you can't install the other one on top for the same property.
Differences
Now, that we're done with similarities, the basic difference between the two is that Google Analytics Ecommerce is the more basic, straightforward version of the ecommerce analytics tools, not burdened by the large number of extra twicks and metrics to set up and watch out for. When Enhanced Ecommerce, on the other hand, is emmmm a more "enhanced" version of the first one.
While Ecommerce Analytics allows you to track "thank you" and "order confirmation" pages mostly, Google Analytics Enhanced Ecommerce tracks the whole customer journey starting from coupons, adding product to the cart, shipment, taxes, refunds, reviews, and finally – checkout, while measuring each and every interaction your customer performs on your website in between. So should we continue, or are you already convinced that if you want to really know what's up with your online store, the Enhanced Ecommerce tracking is the way to go?

Enhanced Ecommerce Basics
The first step on the way to set up analytics ecommerce tracking is to define your ecommerce goals. Without setting up the clear agenda of what you wish to upgrade with your Enhanced Ecommerce, it's hard to focus on ecommerce metrics which are important to track and which are best to get discarded. An analytics dashboard of a subscription-based ecommerce business will look nothing like ecommerce analytics of a multi-brand apparel store.
It takes a professional to set up ecommerce tracking in Google Analytics, and the whole set of rules and protocols to follow is displayed in the special article here.
So instead of listing the ecommerce tracking codes, you can easily find online, we will provide a list of step-by-step tracking implementations applicable for any ecommerce business. Each and every step is crucial for the accurate Google Analytics ecommerce tracking and allows for as many extra steps as you wish to add.
The list of the order implementation for Enhanced Ecommerce tracking goes:
Purchases
Add to cart & Remove from cart
Checkout
Views on Product Details
Internal Promotion Impressions & Clicks
Product Impressions & Clicks
Data Visualization
Once we've correctly set up ecommerce tracking in Google Analytics and collected all the information defined in our goals, we should feel quite good about it. After we threw a little party with pretty balloons and a huge mint chocolate chip cake, it's time to utilize those stats we've worked so hard to collect. And just the moment we thought we were done, the last piece of the Google Analytics for ecommerce website setup comes into play.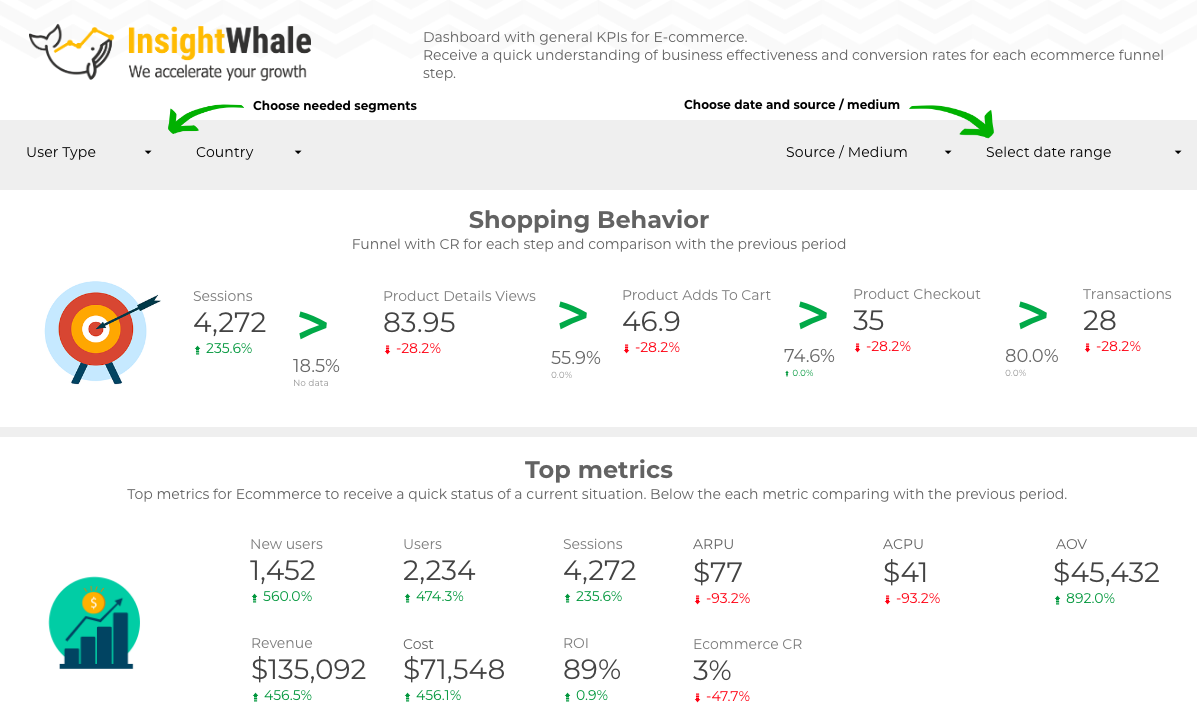 It's hard to convey the message you're trying to represent to the people who've glanced at the Google Analytics dashboard a couple of times, and got overwhelmed with the increasing amount of numbers clutched together is a single website page.
So when you need to show the Google Analytics ecommerce reports to your colleagues, when you're creating a new marketing strategy based on those finding or just want to have a clear vision on what's working and what's not, your best friend is a tool called Data Visualization.
Data Visualization allows to place all of those scary numbers in pretty, colourful infographics that showcase all the necessary info, but in a fun and concise form. Luckily, you can use a number of tools presented by yet another Google product, called Google Data Studio.
It automatically visualizes all your stats from your linked Google Account so you don't have to break a sweat to get a beautiful graphic like the one we've got from the Ecommerce Marketing report in the example above.
Сonclusion
This article on how to set up ecommerce tracking in Google Analytics is created to provide you with a handy step-by-step guide and help you navigate throughout the whole analytics ecommerce setup tracking process.
Once you have your analytics setup right, you can make important business decisions fast and grow your business more efficiently.