Whether it's your first or hundreds time using Google Analytics, you probably noticed there is a default "My Dashboard" which comes with every view you might choose. And while the ready-to-wear dashboard can serve many purposes, in order to really get the best out of your data you might want to know how to create dashboards in Google Analytics.

A single dashboard contains multiple widgets (graphs, charts, whatever you want to call them), with a total of 12 widgets that can be segmented, grouped, edited and organized however you see fit. And once you're done creating your new custom Google Analytics dashboard, we recommend you check out this free Google Analytics Setup Best Practices and Guide – you're welcome 😉

How to create Google Analytics Dashboard
Everybody knows its much easier to get acquainted with a new tool if you have a manual on how to use it. This is why you're about to enjoy a step-by-step guide on how to create dashboards in Google Analytics.

Let's begin!

Step 1: Create a blank canvas dashboard
First things first, sign in to your Google Analytics account. Once you are logged in, you'll see a home page with your latest stats which will look something like our Google Analytics screenshot below.
Now go to your left menu panel > Customization > Dashboards > Create. You will be redirected to a new page with a pop-up window that will ask you which type of Google Analytics custom dashboard – Blank Canvas or Starter Dashboard – you'd want to create.

For the sake of our Google Analytics dashboard tutorial, we will choose a blank canvas with no pre-made widgets and give it a new name.

Step 2: Get to know your widgets
Since we've chosen to have a completely blank canvas on our way to create a dashboard in Google Analytics, we are offered to create a new widget right from the get-go. As you can see, there are two types of widgets – Standart and Real-time.

While the real-time Google Analytics widgets update automatically and well, in real time, i.e. within minutes, the standard widgets update their metrics only when you load or refresh your dashboard. Use real-time widgets to display active users or pageviews, which is its sole purpose after all, and choose the standard type widget for the rest of the tasks you might have.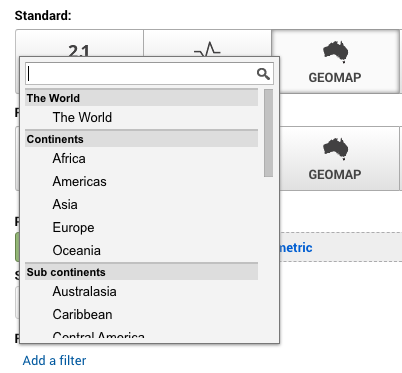 Now, even though you might guess which of the widgets corresponds to which functionality within Google dashboard analytics, we've prepared a quick review on each of them to make your process of creating a custom dashboard in Google Analytics easier.

Let's take a look:

Metric or a Counter — represents a basic numeric value of a metric you choose.
Timeline — builds a special graph for your single metric's progress over time, with the ability to compare it with an additional metric.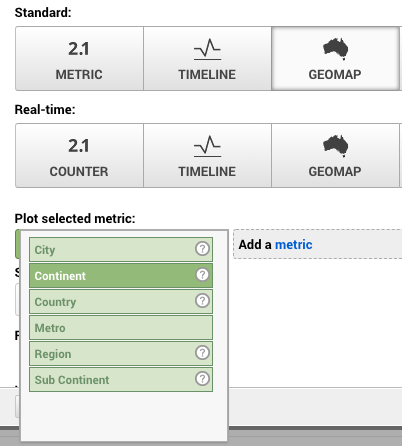 Geomap — creates a map of the region you choose from the menu, with a single metric laid on top of the map. You can choose to display any map from a city to a continent, and even Metro if you're in the United States.
Table — allows you to choose any value, called a column, and one to two metrics to describe it in a table format.
Pie — displays a pie chart showing a specific metric, say New Sections, grouped by a certain dimension like Source/Medium to show you which medium brings the most visitors.
Bar — illustrates a bar chart (surprise, surprise) of the chosen metric, which can be grouped by one or two dimensions.
Step 3: Configure your widgets
Now that you have discovered how to create widgets for a custom dashboard in Google Analytics, start placing them on your dashboard canvas. Go to the top bar of your dashboard's page and press + Add Widget.

Now all you have to do is name your widget > choose widget type > select your desired metrics from the drop-down menu > press Save. Watch your widget automatically appear on your new Google Analytics dashboard. If something went wrong – don't worry about it, you can always hover over your widget afterwards and click on the pencil icon ✎ to edit it. This is also a great way to resolve a common "Google Analytics: how to add a report to dashboard" question.

Because while creating your widgets you can also choose to:
Filter your data
Link to Report or URL
Clone widget
Step 4: Organize your dashboard
As you'll see as you develop your Google Analytics custom dashboard further, your widgets will line up one of top of the other in a single row by default. While this can be useful to someone for some unknown reason, this line hardly looks like a dashboard.

To organize your Google Analytics custom dashboard go to your top bar menu, look on your right under the date and press Customize Dashboard.

This will open a new Layout options window with six different arrangements to choose from. This window helps you decide how many rows are you looking to have in your new Google Analytics dashboard and which percentage of the whole each will take.

Once you choose your dashboard layout, hover over a chosen widget until you see the move icon ⤮ and drag the widget wherever you see fit. We've named each of our widgets according to its category so you can have a good example of what to expect. Your end custom Google Analytics dashboard should look something like this:

Step 5: Add segments to your dashboard
Congrats! Your answer to how to create a dashboard in Google Analytics has been answered and if you've followed our tutorial you have a new and shiny Google Analytics dashboard waiting for you.

But if you want it to be even more sophisticated, you can add beautiful segments to your custom Google Analytics dashboard. Here's how.

Look at the top of the page to find All Users and click on the rectangle right next to it that says + Add Segment. As you do so you will see a new window open with a list of already existing segments looking something like this:

Now you can either choose from the existing list and click Apply, or you can create a new Google Analytics segment. To add a new one, look at the top bar of the existing window and press on the red rectangle that says + New Segment.

Here you can configure everything starting from the age of your visitors to their language, browser version, and behaviour on your website. You can also segment your users against single, multi-session or sequential conditions. Once you are done with creating new segment, press Save.

Conclusion
Bring two glasses and that bottle of champagne because you did it! You've created a gorgeous custom Google Analytics dashboard – all by yourself.   

Now if you're in a mood for more achievements, check out our other free Google Analytics tutorials: