This Precious Moment
Congratulations! You've been expanding for quite a while, building, and investing your time, energy and money into your business until the moment comes, and you realize – it's time to grow. It's time to spread the word far and wide, it's time to acquire new audiences, it's time to dominate the market just like you've envisioned it before. Enjoy this moment – you've been doing a great job, you deserve it.

Now after the first euphoric feelings have passed, it's time to return to making your goals and aspiration happen – and hire an internal or external marketing team. In-house or outsourced, it's still a marketing team, you'd say, so is there that much of a difference? Yes, yes there is, as a result of making this decision will either boost your sales and get you to the top of the list among your competitors, or will leave you with unpredicted expenses, unmet profit targets and a bad quarter all-way-round.

Outlining the outcomes of hiring both – an internal and external digital marketing team, the problems we'll face and the results we'll get, allows us to be more strategic when making this decision. So, let's begin.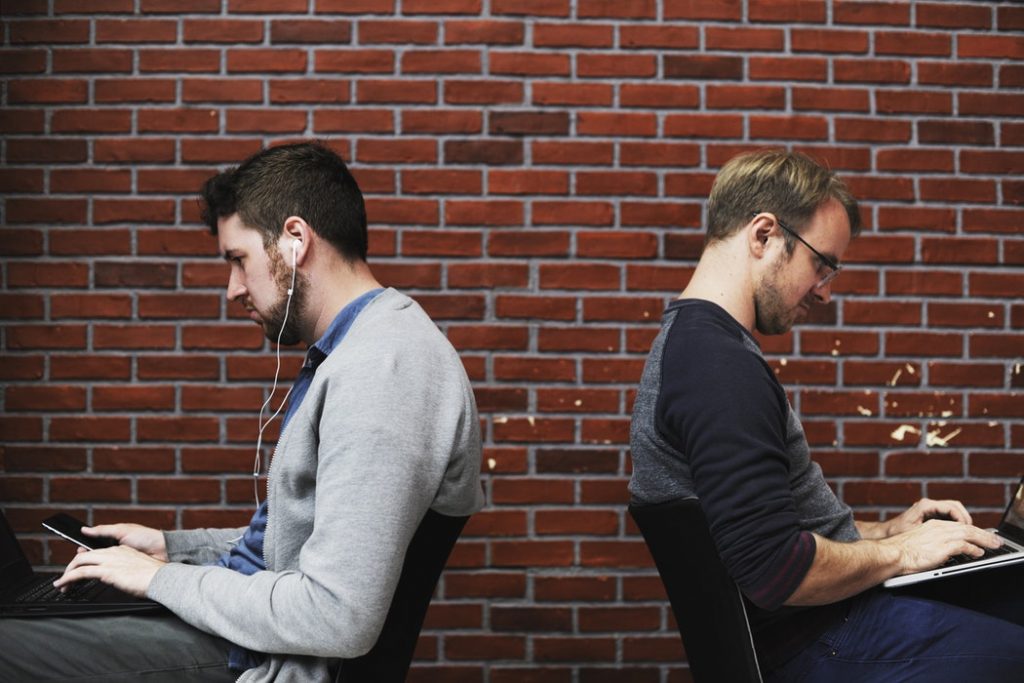 Apples to Oranges
We'll start with being ridiculously honest and stating that there is no one fit-for-all solution to this dilemma. Just like its owner, every business is unique in its own particular way, – a solution that will drown one business will skyrocket the business model of another one.

That's why to get the most out of this article be extremely transparent with yourself when it comes to the resources you are ready to designate for your marketing needs: the money you are willing to allocate, the time you are willing to spend, and the outcomes you are looking to achieve. This is what will determine the answer to the article's headline question.

The Art of Delegating
The way you got to the top is thanks to the focus. It wasn't because in the very first moments of your entrepreneurial weekdays you decided to open a family-owned bakery, an IT-school for post-secondary students and a massive oil-mining company on a side. No, it was because you focused on the needs, the troubles and the opportunities presented by one business. You've studied all the ins-and-outs of your industry, spend late nights monitoring your competitors and ended up becoming an expert at what you do.

So when you're thinking of hiring an in-house marketing team, ask yourself again – am I willing to make the marketing side of the business my focus? Hiring an inside team means not only employing executors but also managers who'll monitor the quality of the executed work. This results in increased salary expenses, additional taxes and the need in time and hands to monitor. So we're talking resources, lots of resources which you will have much more success being invested in the areas of your business that bring value, like your product's design, production, or performance enhancement.
To make your job easier, use this list of the Top Digital Marketing Agencies in PPC, Video, Content Marketing and other crucial categories. Our agency is under the Best SEO Companies of 2020, by the way 😉
When Money Matters
Hiring one or two in-house members seems like a good way to save money at first – paying your own team of professionals, allocating all of their time to the marketing needs of your business as opposed to a digital marketing agency, that juggles between multiple companies at the same time. So while it's a great idea to have a marketing team, dedicating all of their working hours solely towards your company's goals and needs, it's a privilege that comes at a greater cost.

The advantages that come from having the mind of your employees filled with the info regarding your company's new project only are undeniable, yet it also means that you will have to pay 3-4 times the price for the same work produced. When you come to an external marketing agency, you choose a package of services and hours included in your plan, say 80 or 160 and pay only for those. When you hire full-time employees, it also means you cover their vacations, sick days, lunch breaks and overhead, including those hours when they've completed all the work and have nothing upcoming to do.

So while a multi-enterprise company that has a limitless number of hours to be spent on the multitude of their branches and brands will benefit at building an internal marketing department, a company that focuses on producing a service or a product within one industry won't have enough marketing hours to spent by the in-house team in a long run.
The Full Set
Chances are, if you are looking to hire or build a digital marketing team, you are further from marketing than you would have wanted in order to do it all on your own in the first place. You specialize in your industry and understand that making your Product Manager launch & monitor your ad campaigns is probably not the best idea. So you hire specialists.

And even though hiring one in-house SEO analysts, one web developer and one SMM specialists sounds like a good trio, it is not enough for executing a proper marketing campaign. The art of selling is a never-ending dance of human psychology, design, statistics, copywriting and a countless number of other areas with a specialist required in each.
So when it comes to hiring an in-house marketing team you either go all-in – including the purchase of all the necessary tools and software for the campaign preparation and execution, or you don't go at all. If you want to make sure your ads are taken care of above and beyond, your best bet is to turn towards an agency that has a full set of specialists, dedicated to each specific marketing area and goal.
Internal vs External Marketing Team

Although the answer to a question on choosing between hiring an internal or external marketing team is unique to every given case, there is the main guideline summarized below you can follow.

When it comes to building an effective marketing team, it only makes sense to either hire a full team of in-house specialists, forming a separate marketing department, or delegate the whole marketing process to an agency. The middle ground of forming a small internal marketing team will only require a vast number of expenses, leaving you with no tangible results.

The way you determine which one of two options is yours is by determining the marketing needs of your business. If you manage a multinational, multibrand or multi-enterprise business, the more wise and cost-effective option is to form a department team inside your own company. It will allow you to have a unified approach towards your marketing, keeping your brand strategies consistent across a multitude of accounts and letting you direct and monitor the whole marketing process from A to Z.

Now if you are managing small, medium or large international enterprise company, focused on a single niche, industry, type of product or service, outsourcing your marketing needs is your best option. Hiring an external agency will allow you to focus on the needs of your business while eliminating unnecessary costs and getting top-class marketing, done by the first-rate specialists of the industry.

To have a better grasp and precise monitoring over your marketing needs execution, we advise hiring a single in-house marketing specialist, that will act as a link between your brand's visions and marketing agencies' delivery. He or she will be in charge of creating large promotional strategies and conducting major decisions, while deligating and monitoring their execution to an external digital marketing agency.