Whether you are in Digital Marketing, Ecommerce, or Conversion Rate Optimization (CRO) industry the term "buyer persona" comes up a lot.
What is buyer persona, how to build a buyer persona, for which tasks is it used, and how can you use it to optimize your website – find out the answer to all these questions in our new comprehensive buyer persona article.
What is a Buyer Persona?
Here's the simplest buyer persona definition:
A buyer persona is a detailed portrait of your ideal customer based on your target audience and existing customer base.
Each brand can have multiple buyer personas each with unique lives and personality traits. For example, a smartwatch brand will have a "Soccer Mom Mindy" buyer persona who is focused on the household but finds it important to keep fit, a "Tech Tim" who spends most hours at the office but likes to run in the mornings, and a "Instagram Phoebe" who does fitness for fun and likes to wear her smartwatch because it's pretty.
Each of these so very different customers has a very distinct perspective on what in his or her smartwatch is important, which incentives would inspire them to recommend your brand and which – to buy again.
This is why creating buyer personas is so important, it helps:
Understand your customers
Segment ad campaigns
Personalize landing pages
Upgrade product features
Design a converting user interface
Buyer Persona example
"Tech Tim"
Age: Early 30s
Education: College and up
Occupation: Tech specialist
Income: $50-70 annually
Status: Serious relationship
Kids: no
Music: house, alternative rock
Leisure: beer with friends, acquiring new technical skill
Transportation: public transport, occasional bicycle
How to create a Buyer Persona?
Although buyer personas are fictional representations of your average existing customer base, they all have very real human-like traits like their level of education, annual income, age, sex, preferred tone of communication and so on.
To create a portrait of digital marketing client buyer persona of your business you will need to start by creating a separate file where you add info about customers you already know, and gradually add more detailed descriptions for each buyer persona you've discovered.
So here's a handy guide on how to develop a buyer persona for ecommerce and any other online business:

1) Update your surveys
If you've stepped on the path of creating buyer personas – you will need more information than you currently have. That means it's time to expand your customer interview sessions, add questions to the personal information fields, and other forms of feedback you get from your customers.
Just make sure you present questions in a fun, interactive way – people pf every nationality and of all ages love talking about themselves but hate filling out long forms without any incentive.

2) Analyze all you know
Proceed by assessing all the information about the customers you already possess and discovering trends that unite them.
It could be the channel that brought them to your website, it could be occupations and age groups – your job at this point is to find the user information you've already collected and analyzed it for the common traits among your customers. 
Bored by the large amounts of data?
Contact InsightWhale and we will process and analyze all of the information for you 😉
3) Give them a name
Now here's the fun part! Now that you've established some common traits your customers' posses, it's time to place them into separate categories. Separate categories will consist of people with different age intervals, education levels and occupation kinds.
These groups of people who share common traits will result in exactly what we call buyer persona development.
Choose a catchy name that will be easy to understand for everyone in your company from a developer to a CEO, like "Family Guy Marshall" or "Sportsfan Brad". Find a corresponding image or a picture, and place it along with this category description, like in the example below.

Where to use a Buyer Persona?
So where do we use buyer persona in real life – the answer is in the description list below. Buyer persona development is highly requested in such areas as: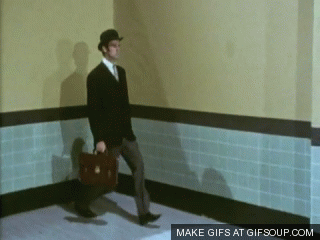 PPC – Pay Per Click marketing
SEO – Search Engine Optimization
CRO – Conversion Rate Optimization
UI – User Interface
UX – User Experience
Buyer Personas for improving conversions
On top of all the cool things you can do by utilizing buyer persona marketing, you can also increase your Conversion Rate (CR). Awesome, right? It is. Using buyer personas for ecommerce website optimization is a smart way to increase your sales without investing much effort or resources.
First of all, using a buyer persona in CRO allows you to track purchase satisfaction. After the user has completed his transaction you can ask him to rate his experience and later group these answers to see common trends among the low and high-satisfied groups.
Furthermore, using buyer personas allows you to understand the motivation behind your users' actions. Say you implement the survey asking your customers questions like "Have you found all you were looking for?" or "What inspired you to complete this purchase?".
Finding out the answers to these questions will let you understand what motivates users of a certain category to purchase, and therefore will allow you to easily motivate users from the same buyer persona category.

Conclusion
If you are still debating if you should develop a buyer persona for ecommerce business – don't hesitate. A buyer persona in marketing is an excellent way to improve your sales with ease and using no extra resources or external help but your own collected user info.
As always, when you are ready to increase your sales numbers contact us so we can take care of your CRO and buyer persona needs for you 😉