The importance of data visualization is hard to exaggerate. It offers priceless insights into your company's operations, propels fast decision-making and enables businesses to communicate data easily, therefore becoming more and more data-driven – here's how. All in all, data visualization is a serious business.
But it's also fun. Especially if you know how to visualize and mostly importantly – what to. That's why today we are offering you a list of the top 20 Google Data Studio metrics you should visualize.
Let's see what we got here!
Google Analytics vs Google Data Studio
Since you are reading this article we are assuming you use some of the Google Suite 360 products like Google Ads, Google Sheets, Google Marketing Platform, Google Tag Manager, Google Optimize, and others and were definitely once (or even now) wondering why not just carry out your data visualization in Google Analytics?
At the end of the day, you can just build custom dashboards in Google Analytics and turn some of your data into pie charts and other basic data visualization types, which by the way we have a full article on here – Comparisons: Data Visualization Types & Methods.
Well, there's a reason to use full-on Google Data Studio visualization instead of simply visualizing in Google Analytics. The second platform is made for data collection, tracking and analyzing, and is best suited for those exact needs, while Google Data Studio is made especially and specifically for data visualization.
As opposed to Google Analytics, Google Data Studio offers expanded data visualization capabilities that are easy to create, adjust, and share among the colleagues. People nowadays like quality visuals and they like them being interactive, colourful and loading fast.
It is also more convenient to use Google Data Studio because you can segment data by any parameters.
Now that we have figured out why it's in your best interest to execute data visualization in Google Data Studio dashboards as opposed to the data visualization in Google Analytics, let's look at the best metrics you should visualize.

Top 20 Metrics to Visualize in Google Data Studio
Here is an example of a Google Analytics Data Studio dashboard which represents people logging into a cloud server and all information related to it. Pretty, right?
Let's see which Google Data Studio metrics you should include in your new dashboard according to the Paid Ads, Ecommerce Store, Audience Segmentation, and Users Behaviour categories.
Looking for a shortcut?
We got you – contact InsightWhale and we'll take care of all the data visualization for you 😉
Paid Ads

When using Google Data Studio to monitor your Paid Ads there are a number of metrics you should include in your data visualization dashboard for all account and for campaigns, regardless of their nature:
Click Through Rate & Impressions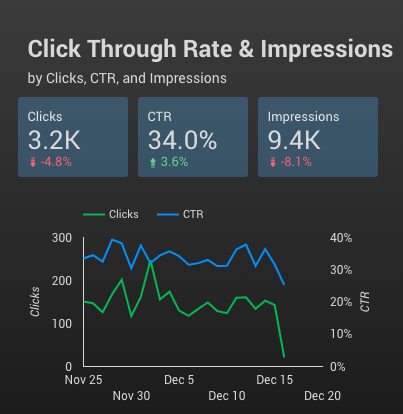 Clicks
Click Through Rate (CTR)
Impressions
Conversion Rate & Cost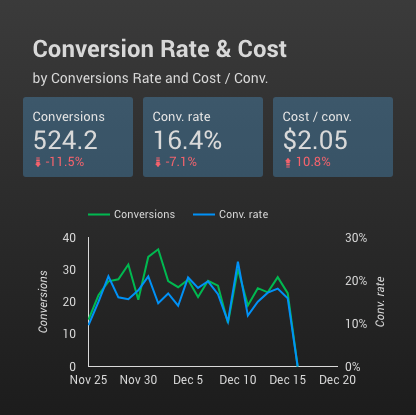 Conversions
Conversion Rate
Cost / Conversion
Cost Per Click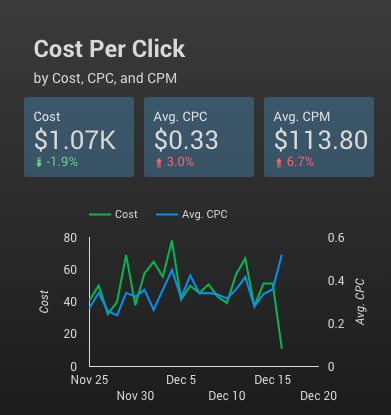 Cost
Cost per Click (CPC)
Cost per Mille (CPM)
Ecommerce Store
On top of the metrics shown above, you can also track Top Campaigns and Device Breakdown metric.
Now that we reviewed Google Data Studio metrics for Paid Ads, we will look at metrics for Ecommerce stores, where you can add a main ecommerce funnel, with an additional segmentation by sources.

Sessions
Revenue
Cart-to-Detail Rate
Product Adds to Cart
Checkouts


Transactions


Audience
Let's look at these sections' Google Data Studio dashboard elements. When building Google Data Studio metrics for Audience Analytics, on top of the Users Section described below, you can also add segmentation by language, country, city, age, and gender.


Users, New users, Sessions
Number of Sessions per User, Average Session Duration
Pageviews, Pages/Session
Users behaviour
Google Data Studio dashboard enables you to monitor user behaviour along with segmenting web users by pages, by content group, by sessions and others.

Pageviews
Unique Pageviews
Sessions
Average Time on page
Bounce Rate
% Exit
Events tracking
Search Terms
Conclusion
Google Data Studio is awesome. It is fast, it is accessible from any device, it is easy to share and most importantly – it is absolutely free. Use our, also absolutely free, "Top 20 metrics to visualize in Google Data Studio" Guide to choosing the right metrics for your business.
It is also a great idea to plan out what are you expecting from your Google Data Studio data visualization dashboards before you start visualization to avoid any mess in your data, or you could consult with a Data Analytics agency to do all the planning and data visualization for you 🙂