Data visualization – the biggest trend in the digital marketing and digital analytics market of today. We all know the benefits of interactive data visualization, which include the ease of use, simplification of communication between the company's departments, and the ability to compress large numbers of data into convenient, easy-to-read visuals.

So once you've decided to give it a try and look into the best data visualization tools, we are guessing you've narrowed it down to two options. If you are still deciding between different data visualization software, here's two other great articles we wrote to help you choose:

So once you've established the two best data visualization tools from our previous articles, or just really sure it must be Tableau or Google Data Studio – which one do you choose?
Ease of Onboarding
Okay, let's be honest – among the features interactive data visualization tools present, among their cost and integration differences a lot of times what we really care about is how easy it will be to use.

If you are a single marketing specialist, department head or company owner without a great background in data analysis, Google Data Studio will be much easier to get started with. It is a great data analytics tool for general data visualization needs and does not include complex graphs and capabilities Tableau does.
Integration
Google Data Studio
If you are already familiar with Google Analytics suit and using their products for your company needs, integrating them with Google Data Studio will be a peaceful walk on a beach. Google AdWords, Google Analytics and even Google Sheets are natively fully-integrated with Google Data Studio, so subtracting data from these sources and importing them to GDS data visualization software will as smoothly as you can imagine.

Connecting Google Data Studio to the data sources outside the Google suite will also present no trouble. Here is a full list of every app you can get connected to. The full list of native integrators Google Data Studio is currently over 160 and counts!
Tableau
Tableau also presents a large number of data source connectors, which can be directly integrated into your Tableau data visualization software. You can search for certain connectors like Microsoft, Google or IBM you already obtain or search through the list of Tableau Supported Connectors.

And even more amazingly, Tableau data visualization software just introduced a new function called Tableau ServiceNow. ServiceNow is a new service of native connectors, which allows you to "dive directly into your source systems and take a closer look at how they're performing". Tableau emphasizes their new native ServiceNow connector allows you to sync up your data and analyze it instantly.
Google Data Studio vs Tableau
We all know a battle between the best data visualization tools can not be complete without a proper comparison table. So we created one. Especially for you.

Here you can see the most prominent differences in the Google Data Studio vs Tableau debate, and make a more educated choice when it comes to a single best data visualization software.

Property / Platform
Google Data Studio
Tableau
Price
Free, but to add some data sources will be required Supermetrics: https://supermetrics.com/pricing/data-studio ($19/mo)
$70 per user a month: https://www.tableau.com/pricing/teams-orgs
Trial
Unnecessary
14 days
Users
Unlimited
1
Dashboards
Unlimited
Unlimited
Data refresh
12 Hours
Can be scheduled for any time
Application speed
Loads data from free cloud storage, so takes longer to load on complex dashboards
Displays all received info right away, making the heaviest dashboards load fast
Implementation
Cloud
Program for any desktop + changes in the Cloud
Other
Low loading speed if you use blended data/high quantity of data/a lot of calculated metrics
Doesn't have all required connectors – will be required to use some third-party tools
Handles large volumes of data with fast performance
Mobile-friendly
A broad range of databases and servers, and native connectors
Pricing

Google Data Studio
As you've noticed from the previous table, pricing is a big-big differentiating quality in the Google Data Studio vs Tableau competition. How different? Very different. Google Data Studio is very-very free, while Tableau is quite expensive.

Struggling to make a decision?
Contact the InsightWhale team and we'll select the best-suited platform for you 😉
Google Data Studio allows you to perform a variety of interactive data visualization operations without having to spend a dime out of your pocket. All you have to do is create a Google account if you haven't yet, import your data – you are ready to visualize your data no strings attached!

Tableau
Tableau, on the other hand, is the complete opposite. There is no free version, but there is a 14-day free trial so you can try out their data visualization features. The price for Tableau packages depends on the number of people on your team and the data visualization functions you will want them to utilize. As an individual, you can buy a simple $70 a month annual plan, but as an organization, you'll have to invest more than that.

The final number on your Tableau data visualization bill will display according to the number of roles you are buying, and wherever you are planning to host data on Tableau servers or on your own.

With three different price packages of Creator, Explorer, and a Viewer you are able to assign various data visualization roles and access levels depending on employees' contribution in the data visualization process.
But beware, you can't simply choose a random number of Tableau explorers, viewers and creators and place them in one price bundle. To go ahead with the enterprise package, you will have to purchase at least 1 creator, 5 explorers and at least a hundred viewers.
Functionality
Google Data Studio
As you remember from the section earlier, Google Data Studio is a completely free data visualization software. That means Google Data Studio capabilities are less complex in comparison with the paid Tableau packages described above.

Nevertheless, if you are looking for a great simple data visualization tool that will help you shape your multilevel data into a single beautiful interactive dashboard, Google Data Studio is your choice. With GDS you can easily create line, pie and bar charts, accompanied by complex filtering options, while sophisticated techniques like utilizing Machine Learning, programming languages or custom multigrade formulas present in Tableau remain unavailable in Google Data Studio dashboards.

Tableau
If you love data, love playing around with data and diving deep blue waters with data, Tableau is a data visualization software just for you. Tableau's dashboard is definitely not the most user-friendly one, and at times it will be hard to get around it if you don't already possess a data analytics degree, but if you are in need of complex data reports and analysis, it's so-so worth it.

Tableau allows you to utilize a number of intricate data analysis techniques such as Machine Learning, Big Data, Smart Analytics, Survey Analysis, Predictive Analytics, and much more. Tableau is also richer in terms of design flexibility, although some simple functions like drawing arrows are absent from the Tableaus data visualization toolkit.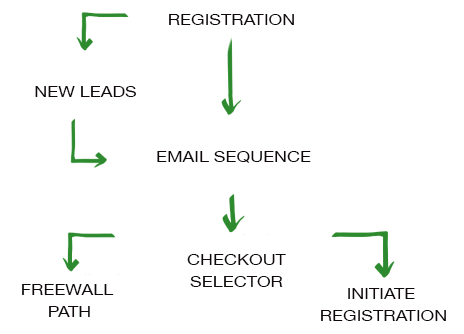 In the example above, for instance, we had to insert various images of arrows as Tableau itself lacks the ability to draw them inside the dashboard.

Conclusion
As you've probably already noticed from the info in the sections above, Tableau and Google Data Studio are quite different in a number of data visualization ways.

To make your decision-making process easier here is a rule of thumb: if you are a large enterprise, focused on data subtraction and usage with a team of data analysts on-site – go for Tableau. It will open a new horizon of not only data visualization but also data analytics capabilities specific to your industry you haven't dreamed of before.

If you are a small to a medium-sized company that appreciates data visualization but is not ready to invest its time and money into having first-class data reports – go for Google Data Studio. GDS data visualization software will allow you to build beautiful dashboards for your investors and potential clients in a blink of an eye without asking for any monetary or human resources commitment.

And don't forget to contact us when you need help setting up your Google Data Studio or Tableau dashboard, managing data analytics reports or deciding on the best data visualization software available 😉