So you're selling something online and you'd like the best conversion optimization tools to ask visitors for their thoughts. But since Conversion Rate Optimization along with UX tools and UX software is quite complex, it's hard to find a one-size-fits-all solution to all your customer satisfaction needs.

A good CRO and UX feedback tool will allow you to receive accurate information from all touchpoints of your customer's journey, will create convenient data visualizations and organize everything into neat reports and dashboards, and will provide you with advice on how to make your web users even happier – all in a single CRO or UX platform.

Below we've collected a list of the best UX tools and CRO software to get user feedback and ask visitors for their thoughts, are you ready to meet them?

Survicate
Trial: No trial
Price: Plans starting from $49/month, free account (1-month data retention, 125+ survey templates, 100 survey responses monthly) 
Features: Surveys and forms, net promoter score, feedback button, website feedback surveys, mobile app surveys, feedback hub
The first on our list of the best CRO and UX tools to get user feedback is Survicate – and not without a reason. Survicate has everything you need in order to conduct a quality survey starting from comprehensive widget customization to real-time & easy-to-read survey analysis. Survicate also makes sure you collect data even from the forms that have not been completed, offers advanced user filters and sends out automated digest reports on how your surveys are doing.

Moreover and foremost, Survicate loves it's free plan users. Not only you get free access to the platform for life but you also get unlimited questions, users and surveys, feedback button, respondent identification, skip logic and email-embedded surveys, along with the live chat support and over 125 survey templates.

Feedbackify!
Trial: Free 15-day trial
Price: $19 a month 
Features: One single custom widget 
We know, we know, this is not the Rolls Royce or even the minivan of survey software, but it has its benefits. Kind of. First things first, take a look at its layout. While this website's visual interface came from somewhen around the early 2000s, it claims to have (or that it has had) some pretty big clients like Nasa, Hubspot and Tesco.

The survey itself though is a complete nightmare. There is only one feedback form type example, and it is square, old-school, and only somewhat customizable. Although you might have already given up on the account of Feedbackify!, it has its plus side. For only $19 a month it offers quite a palette of feedback tools, counting rating scale, open-ended answer, multiple-choice survey, thumbs up & down, ranking system, contact form, subscribe form, and a decision tree.
SurveyMonkey
Trial: No trial
Price: Plans starting from €39/month, free account (10 questions per survey, 40 responses per survey, unlimited number of surveys) 
Features: Customer Satisfaction, Customer Loyalty, Event Surveys, Employee Engagement, Job Satisfaction, HR Surveys, Market Research, Opinion Polls, Concept Testing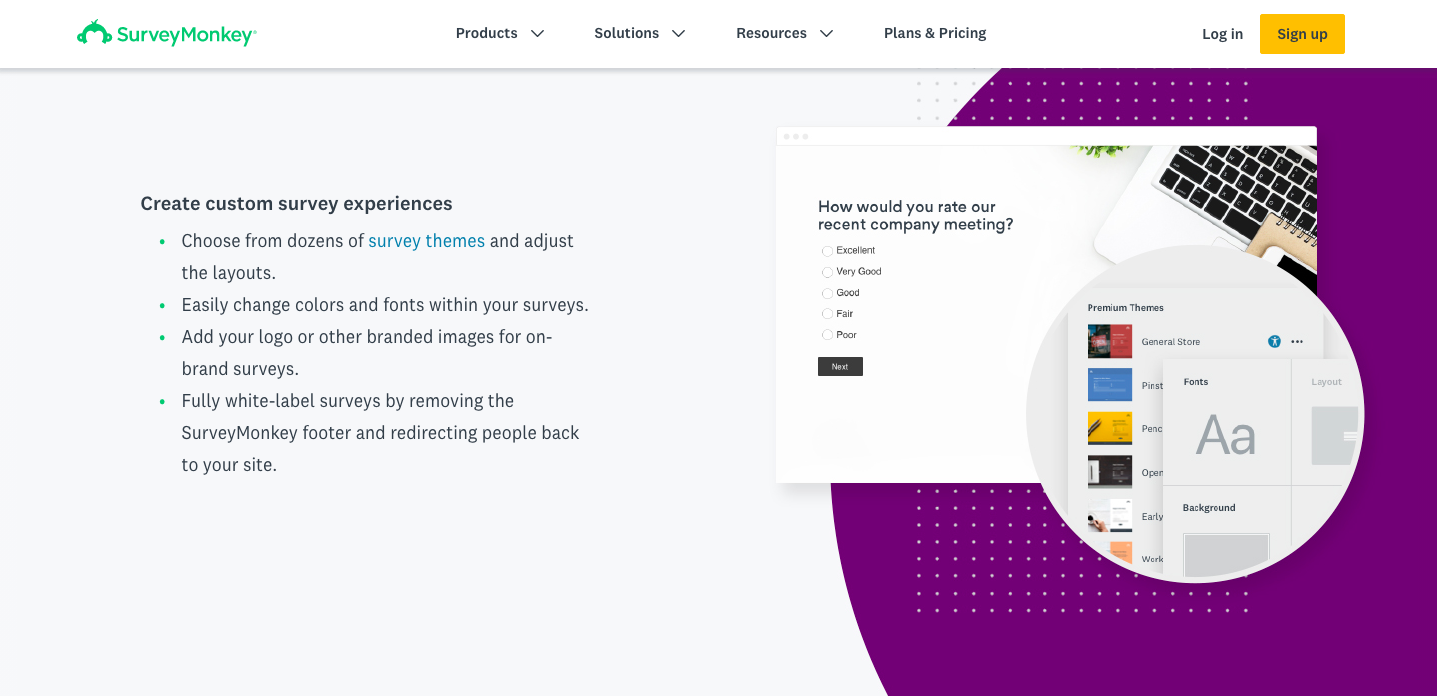 According to SurveyMonkey, it is the "World's Most Popular Free Online Survey" with 98% of Fortune 500 companies using their services. On top of gathering user feedback via emails, weblinks, mobile chats and social media as all survey software does, SurveyMonkey also analyzes text responses from your customers with intelligent Word Cloud and Sentiment Analysis.

This UX tool employs combined filters and crosstab reports while examining your poll results against industry benchmarks and creating custom graphs and summaries to foster fast decision-making. SurveyMonkey provides Business and Personal plans with the latter starting at €39 a month and the Business package deals showcased in the image below.

Usabilla
Trial: No trial, offers a demo
Price: Contact sales for prices
Features: Usabilla for Websites, Usabilla for Apps (in-app feedback), Usabilla for Email, Usabilla in-Page, Usabilla API 
Usabilla is another item on our list of the best UX tools and to our big surprise has been created by our previous participant – SurveyMonkey! Usabilla is a younger, more upbeat version of SurveyMonkey focused on young entrepreneurs as opposed to the established enterprise feel of its founder.
Usabilla not only incorporates all the complex survey functions within mobile, web and email space but also allows your users to pick a part of the website or a feature in your app they'd like to give feedback to. Unlike pre-made plans of SurveyMonkey, Usabilla analyzes your specific needs along with the monthly activity of your app, website or emails and presents a tailored quote based on it.
Qualtrics
Trial: No trial, offers a personalized demo
Price: Contact sales for prices
Features: AI-powered analysis, advanced data collection, drag-and-drop survey tool, pre-built survey templates, 100+ question types 
Qualtrics goes further than collecting information through already typical sources like website, email, curated panel and conducts surveys even in-person. Having employed new predictive intelligence, Qualtrics analyzes open text to find the main concerns and possible issues and automatically equates your data to find triggers of satisfaction in minutes.

Their online reports and test surveys update in real-time automatically, while you can design your one-of-a-kind survey with Qualtrics drag-and-drop survey tool. The only survey platform you'll ever need, as it calls itself, Qualtrics doesn't share any prices on their services and entices its users to call sales.

Medallia
Trial: No trial, offers a demo
Price: Contact sales for prices
Features: AI, Internet of Things, SMS, direct feedback surveys, social listening, reviews, website surveys, in-app surveys, voice interactions, messaging
Now Medallia is a CRO tool designed for Big Data companies who are not afraid to spend a dime on the latest technologies in order to improve user's feedback. You can find all the brand new innovational know-how here – artificial intelligence, machine learning, predictive behaviour, video feedback and text recognition in over 40 languages.

In addition to that, Medallia pairs customer feedback with clickstream and session recording data, which makes it much easier to identify reasons why users leave and offer a custom resolution. Changes to your web, mobile and email platforms are made in real-time, powered by the feedback collected at the stage of A/B testing. Pricing plans are configured on a case-by-case basis, but you can request a demo and take a trial run on how this CRO software works.
SurveyGizmo
Trial: Free 7-day trial
Price: Plans starting from $35/month, free account (up to 3 surveys at a time, 100 responses per survey, unlimited questions) 
Features: Free Online Survey Software
Okay, so, this one is quite tricky. When you first visit ServeyGizmo's website you might get a bit confused about what they are actually offering and what does it have to do with conversion optimization or user experience. It does, and a lot, you'll see in a minute.

At first you'll be presented with the list of their services which will look something like this: Market research, Risk Assessment, Employee Experience, Product Feedback, Marketing, Activated NPS, Employee Assessment, Customer Experience, Sales Motion Optimizer, Return to Work Solution, Healthcare and Education. 

But here's the trick: if you skip all of this and go to the Main menu > Resources > Free Survey Software, you will get access to a decent and a completely free survey tool. Although you can hold only 3 surveys at a time, you are able to collect feedback from any source, consolidate received information and display your results in a convenient format.
Nevertheless, if you'd want more out of the Gizmo's Free Online Survey Software, you would need to purchase one of their pricing plans starting at $35 a month or contact sales for enterprise packages.
Iperceptions
Trial: Free 6-month Iperceptions Adapt program, offers a demo
Price: Contact sales for prices
Features: Voice of the Customer platform

Iperceptions is solely and exclusively a Voice of the Customer (VoC) platform, which starts its sales pitch by reminding us how "every experience counts" and that apparently and horrifyingly "one-third of customers stop buying from a brand they love after one bad experience" and offering CX tools to make all those bad experiences go away.

Iperceptions conversion tool focuses on collecting user feedback from all possible places amongst others including mobile, in-app, interactive voice response and on-location channels, which is then used to form CX insights. When it comes to prices or discounts you won't find any on their webpage, but they do offer some kind of 6-month Iperceptions Adapt Program, which is absolutely free.
ForeSee
Trial: No trial
Price: Contact sales for prices
Features: CX measurement, CX priority index, feedback, case management, ratings, reviews, text analytics, replay 
Unlike other top CRO and UX tools, ForeSee does not entice you to buy their analytics services with a free trial, a demo or some guidance on the price plan range you might expect. So, if by the end of this article you feel like employing their services, visiting ForeSee "Contact us" page is the only way to go.

ForeSee CX Suite focuses solely on the customer experience, helping you to get an all-way-round overview of the customer journey, which includes a whole set of tools like text analytics, case management, replay for web and mobile, feedback, ratings, etc. ForeSee CX will also help you install Voice of the Customer (VoC) throughout your whole organization, see where you stand within competitors with over 600 benchmark categories, and organize your customer experience efforts with Priority Index.
Qualaroo
Trial: Free 14-day trial, offers a demo
Price: Starting from $199/month
Features: Website feedback, voice of customer surveys, ecommerce conversion optimization, user experience feedback, product feedback, SaaS conversion rates, grow website leads, app feedback

The next stop on our list of the top CRO and UX tools is Qualaroo. Qualaroo, having an unusual name and not any less unusual kangaroo logo, positions itself as a Customer & User Feedback Software. It works for both – desktop and mobile applications – and offers deliberate feedback along with pre-made templates, branding personalization and even AI-powered analytics & reports.

Qualaroo UX software also promises easy installation that doesn't slow down your website's performance, which we all know is a crucial point when it comes to creating a satisfactory user experience. Although having these advanced functions is worth quite a pretty penny, and if you want perks like advanced audience segmentation or nominal sentiment analysis, you'll need to fork out for a Growth Plan at $500 a month or contact sales directly.  
HotJar
Trial: Free 15-day trial
Price: Plans starting from €29/month, offers a free account (2000 pageviews a day, unlimited team membe1-year data storage) 
Features: Heatmaps, recordings, funnels, forms, incoming feedback, polls, surveys
If you haven't heard of Horjar before, you must have never seen a heatmap or user recording, because Hotjar is the mother of user behaviour feedback. It is one of the best UX tools and a very popular choice among marketers and conversion optimization specialists. This is because of it's comprehensive, all-way-round features.

Hotjar not only lets you create user feedback surveys in whichever shape or form you'd like but it also offers other conversion optimization tools like session recording, sales funnels, polls, heatmaps, along with unlimited responses and team members, behaviour logic, multi-device support all in one single Conversion Rate Optimization software.

Hotjar also allows you to target users by device or custom javascript triggers, URLs and user attributes while blocking your own IPs. Another nice feature is their feedback tools come already adapted to foreign languages and are available in over 40 languages. Find out more about this platform in our following article – How to understand your users using HotJar?

When it comes to price, you can start with a free plan or a Plus at 29 euros a month for personal use, or choose a Business plan depending on the number of your daily pageviews.

Informizely
Trial: Free 14-day trial 
Price: Starting from $69/month 
Features: Website surveys, email surveys, exit-intent surveys, link surveys, product insights, marketing insights, CX insights.

Informizely lets you ask your visitors for their thoughts with the help of slide-in surveys, exit pop-ups, emails, public links, feedback buttons and embedded surveys. It also lets you add limitless questions and pages per survey, use background and inline clickable images, adjust your forms in any ways you'd like including changing widget's style, survey's placement and animated roll-out, font, text sizes, corner radius and code in your custom CSS for a more precise customizing.

Informizely also provides some advanced reporting options with our favourite automatically-generated data visualization dashboards. So if this sounds interesting, make sure to act quick – they are offering 50% off during this summer sale, and we did not receive any money for sharing this offer 😉
WebEngage
Trial: No trial, offers a demo
Price: Contact sales for prices
Features: Analytics, Segmentation, Engagement, Personalization, Journey Designer
If you are looking to create some simple surveys skip to the next item on our top CRO and UX tools list because WebEngage is for serious business. It is a Business to Customer platform, or, as they call it, a "Marketing Automation Hub", created specifically for enterprises.

WebEngage allows you to design contextual and personalized campaigns, create cross-channel promotion and organize it all in a drag-and-drop visualized platform for beautiful communication flow. WebEngage reaches your users through mobile and web push notifications, in-app messages, emails, web overlays, SMS, WhatsApp, and Facebook.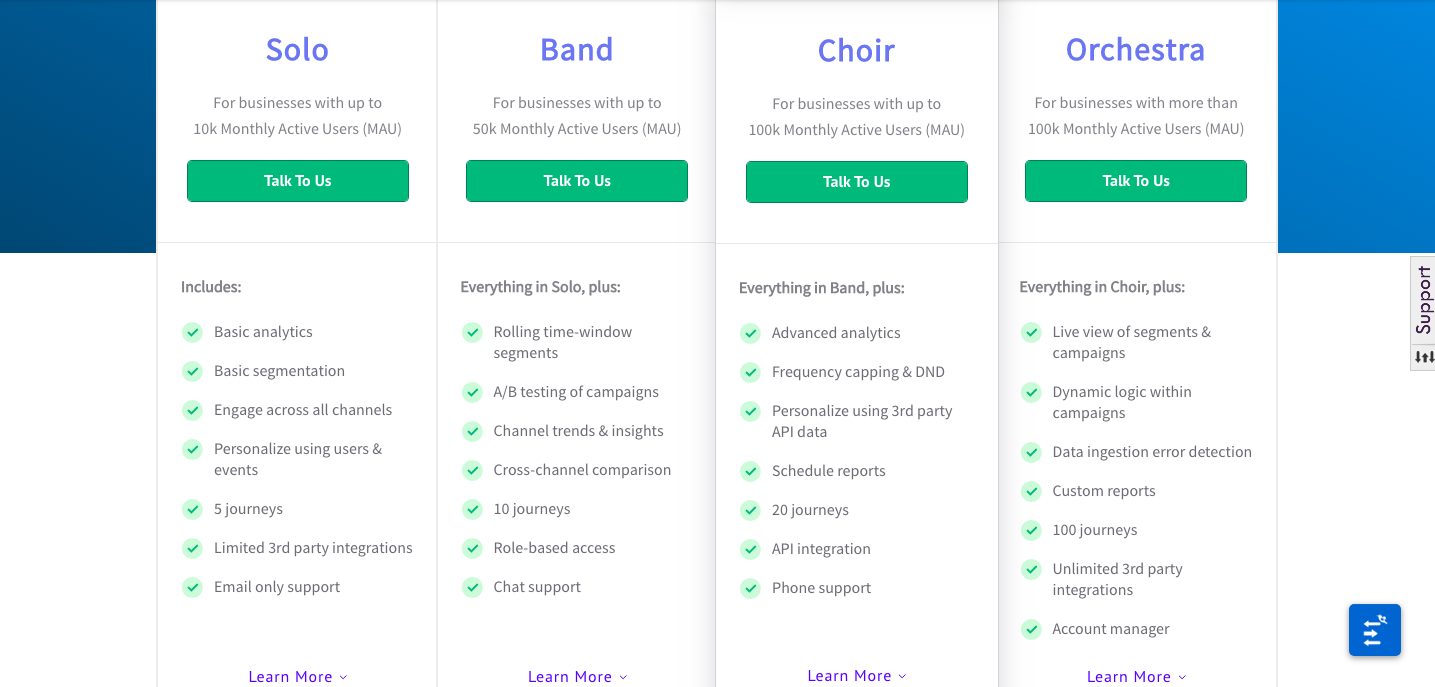 When it comes to pricing, this CRO software has 4 plans none of which disclose it's cost until you dial their salesperson.

SurveyAnyplace
Trial: Free 7-day trial
Price: Starting from $39/month 
Features: Customer satisfaction surveys, energy assessment, offline survey for events, personality assessment, training quizzes
SurveyAnyplace does not have an artistic description of its features, which is quite weird for such a specialized UX tool, but it has a long list of all instruments and perks it has to offer for each plan, which you can check out here. Among the top benefits of using this Conversion Rate Optimization software is a library of incentive widgets, broad design features, intelligent connector integration, multi-user management and collaboration, and personalized PDFs. 

The CRO tool says it builds "Interactive questionnaires without the hassle of a custom-built solution". And when it comes to pricing, you can get SurveyAnyplace starting from $39 if you're an individual, and would have to speak with sales if you're a large enterprise or would like your users to download a personalized report right after completing your survey.
Google Forms
Trial: No trial
Price: Free
Features: Native synchronization with other Google products, user-friendly design, ease of sharing

And of course, Google Forms! Our list of the best tools for UX and CRO to get user feedback wouldn't be complete without the most well-known and frequently-used tool for form creation. There are, of course, numerous reasons why Google Forms are so popular among agencies and individuals, among which are absolutely no need for onboarding, native integration with other Google products like Google Docs, Sheets and Slides, and of course its price. Google Forms is absolutely free.

Well, almost. If you're looking to use Google Forms for personal use, you can go straight to creating your first Google survey using an existing Google account. Google Forms are responsive, offer data visualization charts and information on real-time responses. You can also choose from existing or create custom themes, add stylized images, embed Youtube videos, add page branching or question skip logic to your free Google surveys.

But if you want to connect your forms to other apps like mail, drive or calendar, looking for added security and planning to share your forms with a large team, you might want to look at the Business plan and splurge on the G Suite option.
Conclusion
Congrats! You've made it to the end of the Top 15 CRO and UX Tools to Get User Feedback and now know (hopefully) what's the best survey tool for your business. If no, check out our next tool comparison articles or just give us a call – we love to chat 😉